En Gold / Services
Interior Styling Consultation
Bring your vision to life through the guidance of our experienced Interior Stylists.
Immerse yourself in En Gold
Our experienced Interior Stylists are here to guide you and bring your vision to life.
Get to know our collection with professional guidance and a tailored package just for you.
Complimentary Consultation
1 hour styling consultation with one of our interior stylists.
Location: The En Gold Gallery or Online
Book Now
Interior Styling
Initial home consultation / 1 hour.
En Gold furniture, homewares and artwork curation by our Interior Stylist for up to 3 rooms.
Colour and wall finishes specification.
Final presentation of mood boards at The En Gold Gallery presented with finish samples.
The perfect package for new homes or a simple space refresh.
Redeemable on purchases of $5,000.00 or more.
$500 AUD
Book Now
Content Add-on
Experience the exclusive full service unique to En Gold.
+ $450 AUD on top of the Interior Styling Service
Stylist will be present to oversee and style your space with fresh florals during bump-in, making it photo-shoot ready.
Have our En Gold Photographer photograph your newly styled home. Final images are yours to keep, share and use.
Suitable for an AirBnB Host, Retailer or Home Seller.
+ $450 AUD
Book Now
Timeless Interiors
Bring En Gold into your home with one of our styling packages. Our experienced Interior Stylists will guide you to creating your dream space.
Availability
Mon-Fri, 09:00AM - 03:30PM
Only Available in Metro Melbourne Areas.
*For outside of Melbourne Metro areas, additional charges may apply. Please contact our team at hello@engold.com.au for more information.
Do you have any questions?
Please feel free to send us an email or give us a call during the operating hours.
Email: hello@engold.com.au
Phone: (03) 7009 0990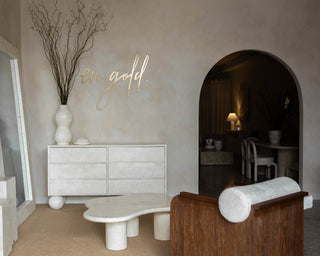 The En Gold Gallery
Immerse yourself in the En Gold experience. Our Gallery is the home of our 150+ unique designs. A space designed by us to take you through the En Gold journey. We invite you to touch, feel and learn about of craftsmanship and story behind our designs.
Styling Journal
Read our styling journal and explore interior styling around the dining table. Our Interior stylist shares 5 tips and advices for your dining space.
Learn how to select your new storage piece in your home. One of our interior stylist shares five insights for you to style your new sideboard and buffet.