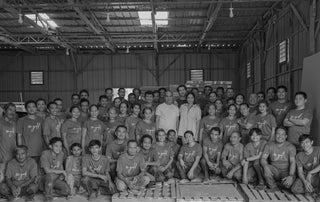 EN GOLD / ABOUT
Our Story
About Us
We strive to create a platform of thoughtfully crafted wares by offering a selection of works from around the world, alongside our own designs. We seek to celebrate and represent craftsmanship from Asian countries by learning about cultural traditional crafts and showcasing them through contemporary designs.
En Gold supports slow interiors by producing in limited quantities to ensure we minimise waste and promote conscious consumption. This philosophy allows us to continue to support and grow the En Gold community of artisans and makers. 
With a growing team of creatives both within our own walls and throughout our global supply chain, we search the world to offer a distinguished aesthetic to the En Gold customer. Ultimately our goal is to adorn your homes with pieces that can be cherished for a lifetime. 
Meet Our Founders
En Gold was founded by Husband and Wife team, Steffanie and Matt Ball. Having experienced a life rich in worldwide travel and multicultural heritage. The En Gold range was born out of a combined appreciation for timeless interiors and craftsmanship.
Both Founders developed a deep seeded drive to create a platform that celebrates the design and workmanship of century old crafts. Particularly that of the Philippines, as an ode to Steffanie's cultural background.
Today, En Gold provides a platform for designers and makers from around the world, alongside their own collections. A community proud to bridge the gap between Australia and its neighbouring countries, who share a fundamental desire to celebrate craftsmanship and embrace slow interiors.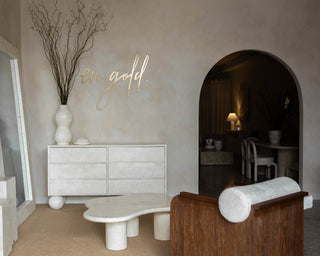 Explore The En Gold Gallery
Melbourne
2/946 High St, Armadale VIC 3143
Mon-Wed 9am-5pm
Thur-Sat 10am-6pm
(03) 7009 0990