Introducing Alice, our new Interior Stylist at En Gold
En Gold is thrilled to announce the newest addition to our team, Alice, who brings her exceptional talent and expertise as our new Interior Stylist.
I always like to begin with a deep understanding of my client's vision and desires for their home. I believe every space should be a reflection of its inhabitants, their lifestyles, their history and the story they want to tell. Heritage plays a significant role in shaping a person's identity and influencing their aesthetic sensibilities.
I encourage my clients to share aspects of their heritage, whether its cultural traditions, special heirlooms or architectural influences. By incorporating these elements into the design, we create a space that celebrates their unique background and feels like a true reflection of who they are and what they love.
Functionality really is at the core of my interior styling work, as I believe that a well designed space should not only be visually appealing and inviting, but also highly practical and efficient. In our consultation, I meticulously analyse the needs and lifestyle of my clients and their families and consider their daily routines, spacial requirements and which activities.
Thoughtful space planning allows for designated areas for play, study and relaxation, and ensures that harmonious balance between function and aesthetics. My goal; a space that is just as beautiful as it is liveable.
The Paradis Collection certainly holds a special place in my heart. For me, each piece is a work of art in its own right. The sculptural curves really do merge modern design with timeless appeal, and I find these pieces can be seamlessly integrated in so many different spaces.
The Paradis Coffee Table in Moreno is my favourite piece from this collection. The soft, rounded edges combined with the rich, caramel tones of the fossil stone really do work in harmony to make a statement.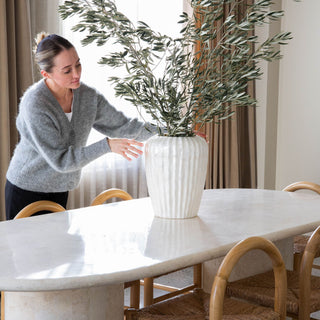 Alice
Styling Journal Editor & Interior Stylist