Introducing GOYO Ceramics, Brisbane-based studio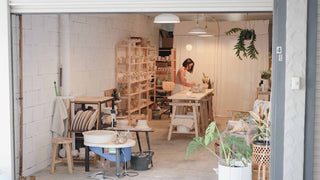 Introducing GOYO Ceramics
Goyo Ceramics is a Brisbane-based studio created by a Korean maker, Seulki. Each collection is presented with a selection of small batch vessels and everyday objects. She have stepped into the field and every piece created is a discovery of the medium, and its unlimited possibilities. Her work reflects the taste and identity that is continuously evolving. Seulki likes to play with different concepts and styles in each collection.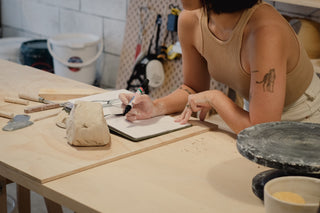 Can you please tell us a bit about yourself?
I am originally from Korea and this year marks 10 years since I started my life in Australia. Although I have worked as a graphic designer for years, I always had the love of doing things by hand. I grew up watching my dad often building things around the house so creating things by hand was very natural for me. My dad suggested I study pottery when I was choosing my university but then I didn't appreciate his advice and I went for design instead. I don't know what led me to try it for the first time almost after 10 years, but I guess there was always curiosity in me about pottery. I took a casual wheel throwing class at a local studio and that turned into making ceramics at home on a small table next to my kitchen with my cat often stepping/sitting on top of my pieces. Now I have the garage space that I can call a 'studio' where I make all my ceramics. I feel so connected to myself when I am working with clay. It brings peace and tranquillity into my space. The name of my brand 'Goyo' comes from this - a Korean word meaning 'peace/silence'.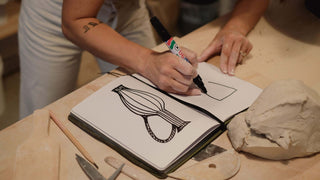 Where do you draw inspiration from?
Nature is where I seek a break from my work but also where I find most of my inspiration. Whether walking in the woods or collecting shells on the beach it always opens up my senses to creativity. Whenever my ideas get dull and dry, I feel the need to get away from the city. But also my inspiration comes from random things like a painting, someone's outfit or a beautiful space - anything with originality gives me new ideas. I look forward to travelling overseas again and creating a whole collection from it. I can't wait to go back home for some time and explore Korean ceramics and ceramic artists that I believe have unique values and identities.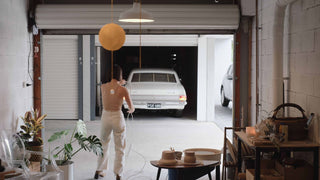 Can you please take us through your journey into making your artworks?
I start by doing a hand sketch in my notebook. Then I build my pieces mostly by using coil building and slab building. Then the pieces will slowly dry on the shelves until they are ready to be fired. I don't have my kiln yet so I have to bring my pieces to a firing facility and transporting extremely fragile greenware by car is my least favourite part of the process. Packing them securely is so important and often tricky. After the first firing, I glaze the pieces. Lately, I am trying out new colours and textures with different glazes which I hope to lay out in my new collection. Once they are all glazed, I then again transport them for the second firing. It is a slow process and that's why I love ceramics. The time and care put into each piece are rewarded when I am happy with the final result. Currently, I make all of my pieces by hand-building techniques but soon I will start using the pottery wheel to create a broader range of items.